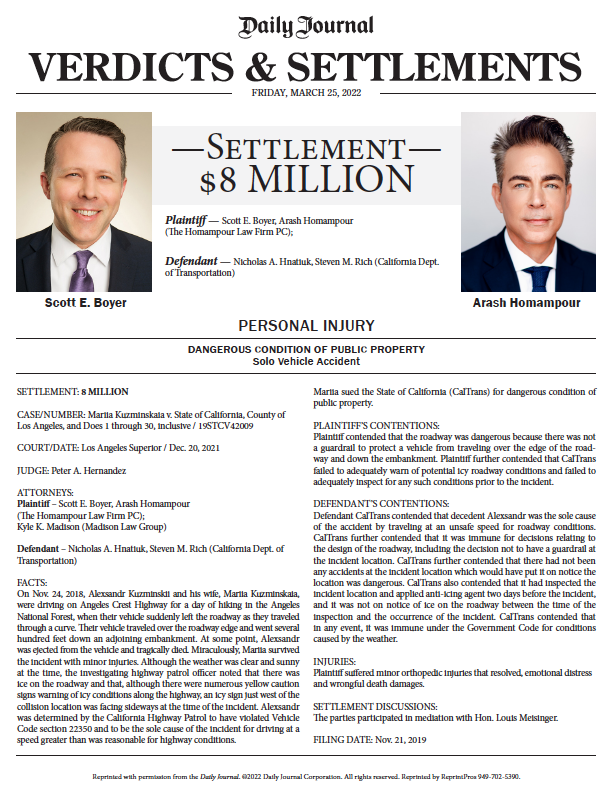 Homampour Law Firm Attorneys Arash Homampour and Scott E. Boyer secured a Dangerous Condition of Public Property settlement for $8,000,000. The incident occurred along Angeles Crest Highway when the Plaintiffs were driving around a curve. Their vehicle suddenly left the roadway and traveled several hundred feet down an embankment. Highway patrol on the scene noted that the road had ice on it and several yellow warning signs of icy conditions were present. However, the sign west of the collision area was facing sideways at the time of the accident. The driver was ejected from the vehicle and tragically died, while his wife survived with minor injuries. Our legal team contended that there was no guardrail to keep a vehicle from going over the edge of the roadway and that CalTrans failed to adequately warn about potential icy roadways and did not adequately inspect the road prior to the accident. The parties participated in mediation with Hon. Louis Meisinger.
You can download the write up in the Daily Journal by clicking here.
---
If you'd like to receive more information like this, sign up for the Homampour Attorney's Email. We announce webinars and podcasts as well as publish articles written by Arash and his team of attorneys that deliver real insight into different areas of the law.